Vale Certified Master Craftsman
(more information on Vale Certification)
We Accept All
Major Credit Cards
About Trey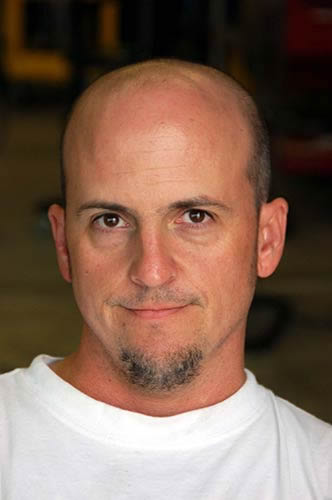 My name is Trey Pool. I am the owner and principle technician of Dentworks of Austin. I have been a Paintless Dent Repair technician since March of 1995. I have been involved in working on cars since I was old enough to ride a bike. My father owned a body shop when I was growing up and I learned all about world of auto body repair before I even had my driver's license!
I learned to do PDR from some of the earliest practioners of the trade. I found it so interesting and challenging that it became a passion for me, and within a few years my skill level developed so much that I found myself in great demand by high-end car dealers and body shops. I did my work on their customers' cars for years, but over time I grew frustrated that I didn't get to meet the people whose vehicles I repaired. I take a great amount of pride in my work, and to go into someone else's shop, do a great repair on a nasty dent, then take an invoice to the front office and drive away without getting to see the customer's smiling face, that just wasn't cutting it for me. So in March of 2005, I took the plunge and opened Dentworks of Austin.
My first shop was further north on Burnet Road, and it was a third of the size of our current location, but no one has ever been more proud of a shop than I was, and I worked fervently to make my mark. Within two years, I had completely eclipsed every other dent repair company in Central Texas and I was, at times, overwhelmed with the demand for my services. I am proud to say I did all this while spending very little money on advertising. Dentworks of Austin is a bona-fide true testament to the power of word-of-mouth referrals. My customers recommended me to their friends and families, and they most graciously posted dozens of reviews on the internet. My wife Mari built a website for me and I wrote the text for it myself and put up pictures of my work. I sometimes worked seven days a week, 12 hours a day, just trying to build the best dent repair business anybody ever tried to build. Before I knew what hit me, I had my own little piece of the American dream! I want to sincerely thank all of the folks who have allowed me to fix their dents over the past five years. Those dents may have not been that big of a deal to you, but they certainly were to me. Thank you!
I live here in Austin with my wife Mari and our daughter Zoey. I love hanging out with them, kayaking, fishing, and playing the guitar and drums.
---
Dentworks of Austin - 7531 Burnet Road, Austin, Tx 78757- 512-459-3368 or 512-964-3368
Paintless Dent Repair - Minor Dent Repair - Hail Damage - Door Dings
copyright Dentworks of Austin 2007
All Dentworks are independently owned and operated